Karteeka Masa Siva Sanchara Seva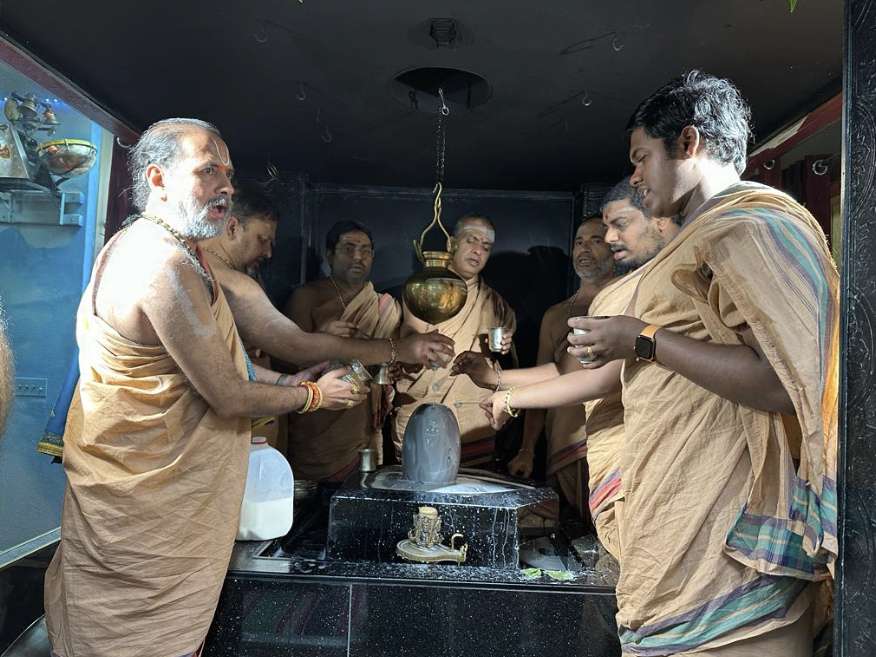 (Invite Lord Siva to your home) From Nov 13th, to Dec 12th, 2023
Book You Slot for Siva Sanchara Seva Program
Join us in welcoming Lord Sri Siva (Sphatika/Crystal Linga) into your homes during the upcoming sacred month of Kartika with our SIVA SANCHARA SEVA program. For the entire event, sponsorship is priced at $151.00, and Priest Dakshina is entirely at your discretion, guided by your devotion, faith, and the strength of your belief. This unique and innovative program, meticulously crafted by Sri Siva Kameswari Devasthanam, invites you to partake in Rudrabhishekam and Alankaram rituals, followed by Aarti. It offers a rare and special opportunity to perform Rudrabhishekam during the auspicious month of Kartika. The central idea behind this initiative is to extend a warm invitation to the Lord into your homes, where you can seek His blessings. We encourage you to seize this once-in-a-lifetime opportunity to experience divine bliss and the presence of the Lord in your own sacred space. The entire process will take approximately 1 to 1.5 hours, and we will conduct this ritual twice a day. Priest reservations began on November 13th, 2023. To guarantee your spot, kindly make your reservation in advance, as prior booking is obligatory. We warmly invite you to embrace this sacred experience and transform your home into a haven of spiritual devotion during the holy month of Kartika. For inquiries or to request this service, kindly reach out to us at
priest@sivakameswari.org
As a token of Prasad, we offer Payasam/kheer.
Instructions and Ingredients
Thanks for requesting Siva Sanchara Seva and choosing us to serve you for this event. It is indeed a great opportunity to be able to invite the Supreme Lord of the Universe along with His family to your home and be blessed. We want you to enjoy this event, be completely benefited, and we wish that this event concludes as per schedule in complete accordance with all formalities. Here are some important instructions that you need to follow. Please be prepared with all the ingredients required and please adhere to the instructions given below:
Key guidelines for welcoming the Lord into your home:
1. Please offer a warm welcome to the Deities with devotion while the lord is entering into your home or premises. 2. Have the altar ready and nicely decorated with the best of whatever you have 3. Have the lamps ready and set up to be lit with cotton wicks and ghee or sesame seed oil 4. Place all the fruits, flowers, and Pooja items set in appropriate containers, ready to be used. 5. Please prepare the Prasad (Payasam/Kheer) to be offered to the Lord and have a lid or cover on it. The amount of the prasad is up to you. This will be later distributed to all devotees attending the event. 6. All the main hosts should be dressed in traditional clothes (Men Dhoti or Kurta and ladies in sarees). Please enjoy this time and spend it with all your enthusiasm and happiness with almighty.
List of items needed for this event are as follows: –
1. Small quantities of:
2. Some fruits and flowers of your choice
3. 3 coconuts
4. 3 small flower garlands
5. Incense sticks
6. Camphor
7. Deeparadhana Samagri (including one metal tray with 2 small diyas, cotton wicks, and ghee. Decorated with few flowers in the tray and one match box)
8. 2 medium or large Brass or silver lamps
9. 1-12 beetle leaves
10. Beetle nuts about 5-6 pieces
11. Pancha Amruthas in 5 different bowls (Please arrange milk, honey sugar, yogurt and ghee) small quantities separately in bowls.
12. 2 brand new towels.
13. Small amount of:
d. Paccha Karpooram (edible camphor) –total amount of the last four to-gather should be about 2-3 spoons configuration when mixed to-gather
Important note:
Please use all organic products only and it would be ideal if you can arrange for a small table for an altar if possible, to seat the Lord.
If you have any further questions, please contact us.at 512 633 7999 or email at priest@sivakameswari.org
---
Karteeka Masa Siva Sanchara Seva
Invite Lord Siva with his consoul Goddess Parvati to your home and perform Ekavara Rudrabhishekam
Weekdays – 08:00 AM to 10:00 AM and 06:30 PM to 08:30 PM
Morning – 08:30 AM to 10:30 AM and 05:00 PM to 07:00 PM
Book You Slot NOW Sponsor Now – $151