Mataki Chowki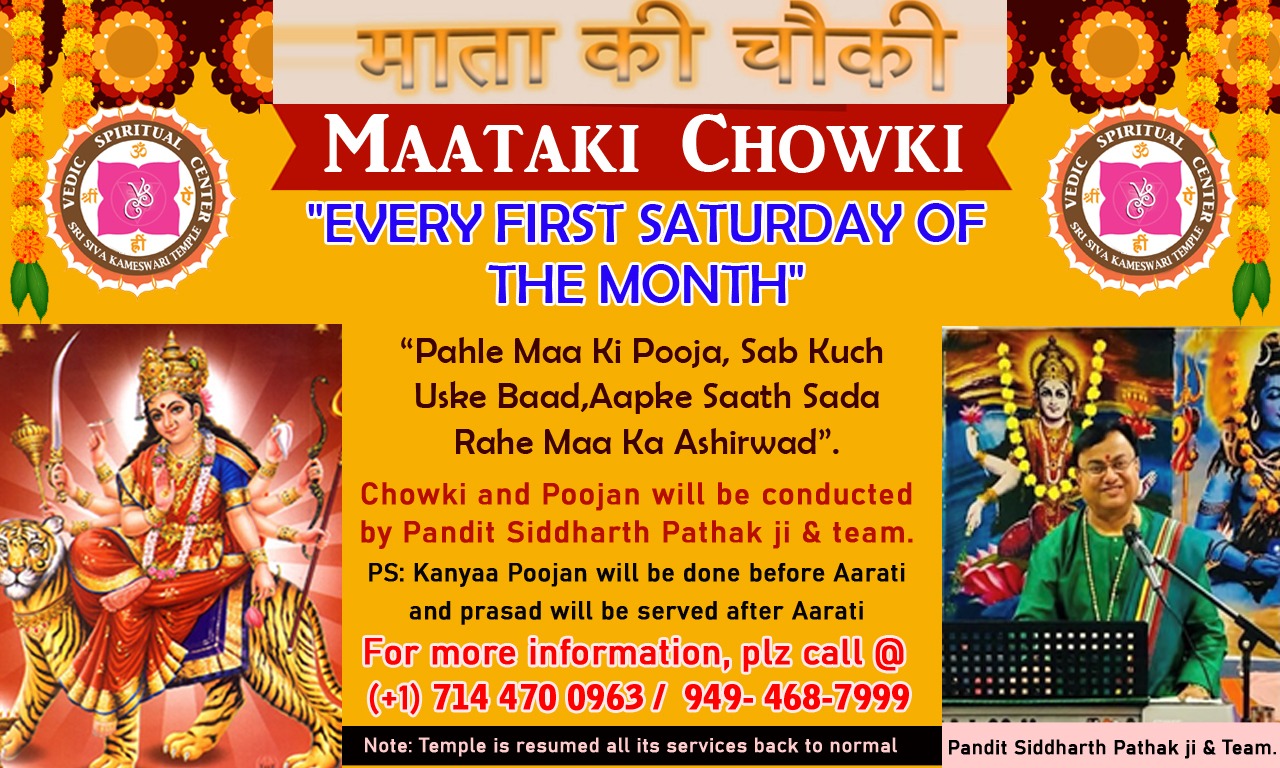 Will take place every first Saturday of the month at Temple from 6:30 PM to 8:30 PM followed by Dinner Prasad. If interested in hosting Mata ki Chowki, please call our Punditji at 949 468 7999 or send an email to priest@sivakameswari.org.
Mata ki Chowki is a religious get together done through Chowkis. Mata Ki Chowki is a short time kirtan which can be performed at any time throughout the day, anytime of the year.
"Laxmi ka Haath ho Saraswati ka Saath ho
Ganesh ka Niwas ho Aur Maa Durga Ke Ashirwad se
Aapke Jeevan mein Prakash hi Prakash ho."
The Mata Ki Chowki can be done on any occasion like engagement, birthday, anniversary, wedding, barsi, mundan, or can be done to be rid from pain and misery or remove any kind of obstacles in life. Most people host Mata Ki Chowki during Navratri, Durga pooja, Kartik Maas, Ganesh Mahotsav, and all other festivals.
Mata Ki Chowki starts with Ganesh Poojan followed by "Jyoti Prachanda", which is lighting of a Jyoti. The devotees sing devotional songs (mata ki bhente), prayers, bhajans, mantras etc. in the glory of Goddess Durga. Devotees offer Maiya ka Shingar Chunari to Mata ji. Lastly, the whole event is completed by offering bhent, aarti and Sampurna Ardas (Donation)
Maa Durga is the epitome of bravery, and with all her extra-ordinary features, she gives the message of never giving up at any stage of life. Fear of failure and fear of facing the darkness is cowardly. However, Maa Durga encourages everyone to be bold in terms of actions and always be pro-active in approach. She gives the message of being immersed in the remembrance of God to all humankind. Mother not only creates a child from her body and energizes but becomes the biggest and the most effective teacher of her child to mould his future. It is revealed that without her even lord Shiva is a lifeless Body [Shav].
The blessings of Maa Shakti are needed to negotiate the rough course of life. One should perform Mata Ki Chowki to get blessed by her divine powers and get one's wishes fulfilled. There is no caste or creed discrimination at Mata's Darbar [Court].
According to Vedas, Maa Durga has nine dimensions:
Shailputri, Brahmacharini, Chandraghanta, Kushmanda, Skandamata, Katyayani, Kalratri, Mahagauri and Siddhidatri. During Navratris, these nine Shakti's are worshiped to gain her blessings.
For more information, please call our Punditji at 949 468 7999 or send an email to priest@sivakameswari.org.