Karteeka Samoohika Ekadasa Rudrabhishekam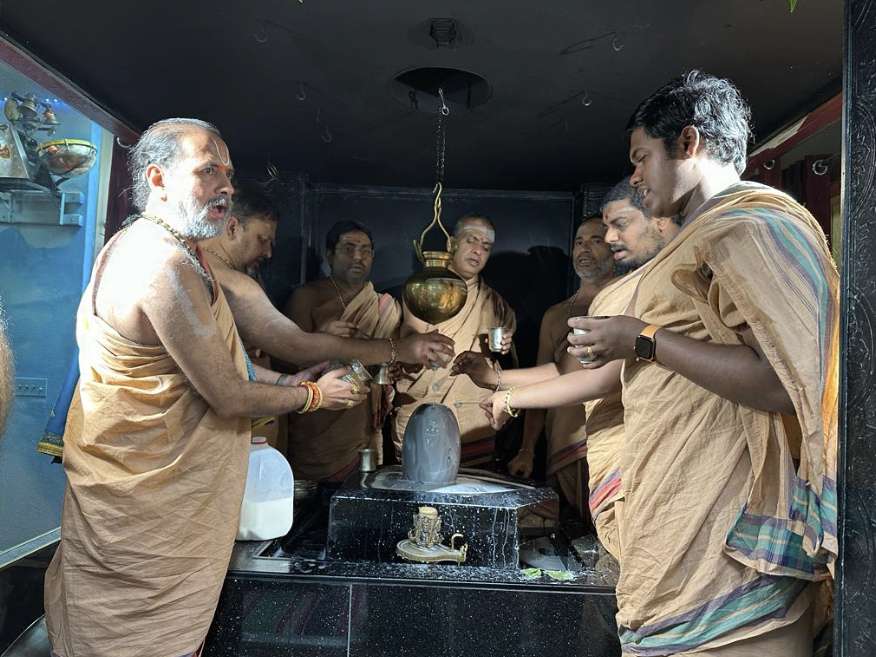 Sunday 10th December, 2023 On Pradosham day @ 5:30 PM
| | |
| --- | --- |
| 05:30 PM | Temple will provide all Abhishekam items along with the Shivalingam. Participants will perform their own Abhishekam to the crystal shivalingam. NOTE: Crystal Shivalingam will be given to you as Prasadam. Dakshina to the priest is suggested after the Abhishekam Sponsor Now – $108 |
Ekadasha Rudrabhisheka is conducted in the month of Karteeka to purify the soul, bring harmony, abundance, and joy to the family. This is an Interactive Puja, allowing you to perform the ritual yourself. We recommend that you Must wear Indian attire during the puja All puja ingredients will be provided by the temple. • This ritual removes obstacles and mitigates planetary influences. • It enhances health, wealth, longevity, intelligence, and prosperity. • Success in career, job, business, and relationships is attainable. • It counters the malefic influence of Saturn, reducing hardships. Rudra Namakkam will be chanted One time by eleven Ritviks (Chanters) during offerings to the Shiva Lingam. To include your name in the sankalpam (ritual vow), please Sponsor NOW and visit the temple on Sunday Des 10th , 2023 -Pradosham Day.

विद्यासु श्रुतिरुत्कृष्टा रुद्रैकादशिनी श्रुतौ तत्र पञ्चाक्षरी तस्यं शिव इत्यक्षरद्वयम् vidyāsu śrutirutkṛṣṭā rudraikādaśinī śrutau tatra pañcākṣarī tasyaṁ śiva ityakṣaradvayam

Among the sources of learning, Vedas are Supreme; among the Vedas, Rudra Ekadasini is Supreme; in the Rudram the Panchaksari mantra 'NamaShivaya' is Supreme; in the Panchakshari, the two letters 'Shiva' stands Supreme. Following the recitation of Sri Rudram, which recognizes Lord Shiva's presence in all things, it is customary to chant the Chamakam. In the Chamakam, devotees seek blessings for all material aspects of life, aiming to find the path to the Divine through the fulfillment of worldly desires. Worshipping Lord Shiva during the auspicious Kartika Masa while chanting Sri Rudram can fulfill the prayers of wholehearted devotees who surrender their body, mind, and soul to Him. Among the three roles of creation, protection, and dissolution that constitute the cycle of life, Lord Shiva serves as the destroyer of the world. He is, in a sense, the ruler of death, the body, and, in the truest sense, the ego. He annihilates the notion of 'I' within the human psyche. When the ego is eradicated, the Self is realized as one with the Supreme. To His genuine devotees, Lord Shiva reveals this ultimate truth. The hymn Sri Rudram holds a special place in Lord Shiva's heart. It affirms His presence in all aspects of the Universe, in every corner of land, air, and water. It acknowledges His presence in all that is good and bad, small and large, beautiful and ugly.
---
| | |
| --- | --- |
| 05:30 PM | Temple will provide all Abhishekam items along with the Shivalingam. Participants will perform their own Abhishekam to the crystal shivalingam. NOTE: Crystal Shivalingam will be given to you as Prasadam. Dakshina to the priest is suggested after the Abhishekam Sponsor Now – $108 |