Naga Pratishtha (Chala)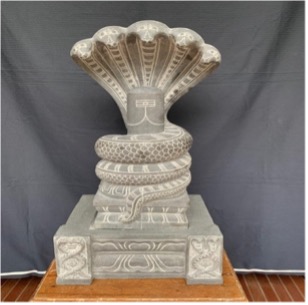 Sri Siva Kameswari temple cordially invites you all for Naga Vigraha Chala Prana Pratishtha at Sri Siva Kameswari Temple in Costa Mesa, CA.
All are invited and this event is totally free for all devotees to attend. Please come and receive divine blessings from Almighty. Naga Pratishtha puja should be done by everyone, especially if your natal chart shows Sarpa Dosha, or if anybody performs Sarpa Samskara or Naga Doshas. You may simply participate in this puja for the welfare of your family as well.
The benefits of Naga Pratistha are:
1) Delay in marriage minimized
2) Overcoming progeny related hurdles
3) Success and happiness in business and family
4) Good health and peace of mind
5) Balance of physical and mental stress
We request you all to please sponsor the event pujas and homas for this one-day event
Thursday– February 16th, 2023 – 4.00 pm – 09.00 pm
Sankalpam, Ganapathi Pooja, Deeksha Dhaarana, Raksha Bandhana, Ankuraarpana, Mandapa aavahana, Agni Pratishta, Vaastu Pariyagneeekarana and Vaastu Homam
Mandapahomas and Sarpa Sookta homam, Adhivasaanga homa, Kalanyasa and all related homas
Jalaadhivaasam & Ksheeradhivaasam Dhaanyaadhivaasam, Pushpaadhivaasam and Sayyaadhivaasam
(Deity immersed in Water & Milk, Rice, Flowers, and bed Ceremony)
Aarati Followed by Dinner Prasad
Friday- February 17th, 2023 – 6:30 am – 12.00 noon
Mandapa Pooja, Rudra, Navagraha, Pancha Sookta, Sarpa Sookta Homas and Maha Poornaahuti
8:07 Am Yantra and Naga Vigraha Pratishtha

Ratnanyaasam, Garthannyaasam, Beejannyaasam,
Yantra Pratishta (08:07 am) & Vigraha Pratishta, Kalanyaasam, Netronmelanam
Kalasaabhishekam, Alankaaram, Govu kanya darshana
Prathama Darshanam, Prathama Archana, Neeraajanam, Mantrapushpam, Mahadaaseervachanam, Teertha Prasaada Vitharana
Lunch Prasad will be served at 12:00 PM onwards