Karteeka Maasa Celebrations-test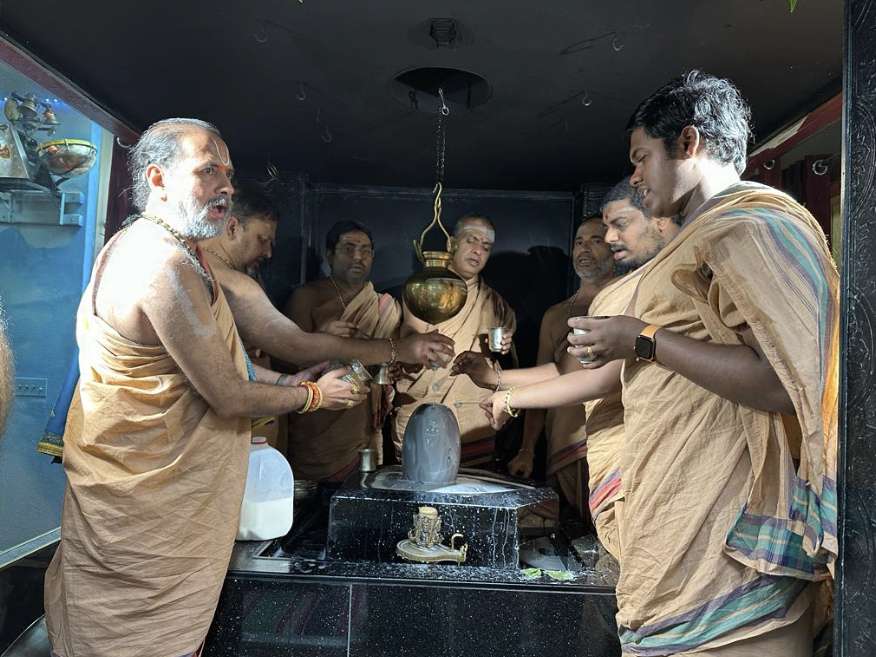 From Thursday 14th, Novembber to Monday 11, December 2023
Namaste Dear Devotees!

As you all know from 14th of November, 2023 the month of Kartika is beginning. "Kalaudevo Maheswaraha!" Means that the Lord Shiva is the designated deity for the current times known as Kaliyuga. In this Yuga (Times) Lord Shiva is the one who can save all the people from all kinds of troubles, negativities and sins. Lord Shiva remove all worries, help solve problems, neutralizes negativity. Lord Shiva is easy to please and bestows His Blessings and saves all.

This month is very auspicious for Lord Siva and Lord Keshava ( Damodara). As we are approaching closer, the temple is recommending and inviting you all to schdual for your yearly Satyanarana Vratam, Ekavara or Ekadasha Rudrabhishekam in your home or at the temple. Our priest can bring the Sivaligam to your home and perform the Abhishekam and puja.
If you like to perform more elaborated puja in this auspicious month you may choose either
Mahalingarchana or Sahasralingarchana
also.
Request Your Service Now
---
Mahanyasa Purvaka Ekadasha Rudra Abhishekam
| | |
| --- | --- |
| | 4 Mondays i.e., on 20th Nov, 2023, 27th Nov, 2023, 4th Dec, 2023, and 11th Dec, 2023 Sponsor Now – $108 |
Karteeka Masa Siva Sanchara Seva
Invite Lord Siva with his consoul Goddess Parvati to your home and perform Ekavara Rudrabhishekam
Weekdays – 08:00 AM to 10:00 AM and 06:30 PM to 08:30 PM
Morning – 08:30 AM to 10:30 AM and 05:00 PM to 07:00 PM
Book You Slot NOW Sponsor Now – $151
Tulasi Vivaham

Tulasi Vivaham is a Hindu wedding ceremony performed in honor of the holy plant Tulsi (Holy Basil). It is a symbolic representation of the divine marriage between the god Vishnu and goddess Tulsi.
The ceremony is held during the waxing moon of the Hindu calendar month of Kartik (October-November).
Tulasi Vivaham is an important ritual that celebrates the divine love between Vishnu and Tulsi and symbolizes the bond between husband and wife.
Sponsor Now – $54
Saturday 25th Nov, 2023 (Supported by Veda Circle)
09:00 AM

Morning Lagu Rudrabhishekam.

Significance of Laghu Rudram
Ganapathi puja, Punyahavachanam, Rudra mandapa avahana, mahanyasam, Laghu Rudra Abhishekam. Rudram Chanting and Abhishekam at a time. (Rudram Chanting by Veda Circle Ritviks & temple priests). Sponsor Now – $108

03:00 PM

Nama Sankeertana followed by Lunch Prasad

Nama sankeertana is an important part of Hinduism and is used as a way to express devotion and worship of the divine.

05:00 PM

Laksha Bilwarchana Followed by Dinner prasad

Significance of Laksha Bilwarchana
Be blessed with good health, wealth, prosperity, the ability to vanquish enemies, protection from Evil eyes, and the dissolution of lifetime of Karmas.
NOTE
1. Laksha Bilwarchana and Naama Sankeertana will be at the same time.
2. This is the only time in a year, all men will have a chance to go inside the sanctum of Lord Shiva and offer bilwa leaves to Lord Shiva directly.
3. All ladies will have a chance to offer bilwa leaves on crystal Shiva linga
4. All participants must wear Indian attire, men must wear Dhoti, and ladies can wear either Saree or Punjabi suits. Sponsor Now – $108

05:00 PM

Jyothirlingarchana Followed by Dinner prasad

Significance of Maha Jyotirlingarchana
365 oil Lamps will be lit and arranged in the form of a huge Shiva Linga and then worshiped with deep devotion by all the Devotees to remove darkness and invite brightness into our lives Sponsor Now – $108
10 am – 4.00 pm

Temple Annual Vana Bhojanam (PICNIC)

Carbon canyon Regional Park, 4442 Carbon Canyon Road , Brea, CA 92823 Shelter # 1

All Are Invited . it is a free Event
A MEAL IN THE PARK
Mouth-Watering dishes for lunch (cooked on-site by our expert Male/Female chefs)
Snacks, coffee, tea, and desserts (made on-site by our enthusiastic volunteers)
Karteeka deepa danam is available at the park.

For More Information please call temple at 714 714 0101 or 949 633 7999 or
Email: info@sivakameswari.org

10:00 AM to 12:30 PM

Samoohika Satyanarayana Puja – 108 Members
(Satyanarayana Vratam in the Park)

A Samoohika Satyanarayana Vratam is being organized in a park in the picnic spot to bring the community people together to celebrate the divine occasion. A temple priest will chant the mantras and the 108 members attending the pooja will do the 12 steps of chanting and praying. The pooja will begin with a prayer to Lord Ganesha, god of beginning and also the remover of obstacles. The devotees will chant several Vedic hymns and then a puja will be held with offerings such as coconut, flowers, sweets, fruit, incense sticks and camphor. After the puja, prasadam will be distributed.
Sponsor Now – $108
Sunday Dec 10th, 2023 (Supported by Veda Circle)
05:30 PM

Samoohika Ekadasha Rudra Abhishekam Pradosham

Temple will provide all Abhishekam items along with the Shivalingam.
Participants will perform their own Abhishekam to the crystal shivalingam.
NOTE: Crystal Shivalingam will be given to you as Prasadam.
Dakshina to the priest is suggested after the Abhishekam
Sponsor Now – $108