Sri Sita Rama Kalyanam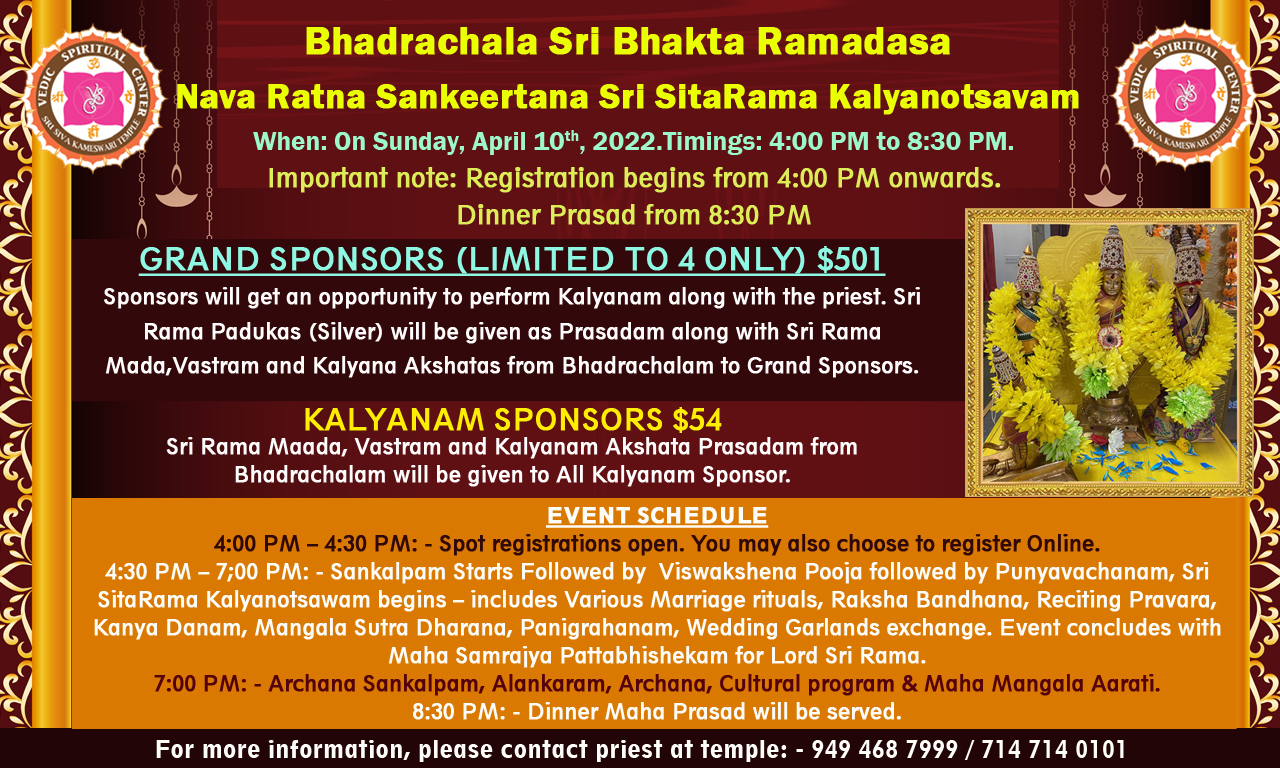 Program Details
Bhadrachala Sri Bhakta Ramadasa Nava Ratna Sankeertana Sri SitaRama Kalyanotsavam
On Sunday, April 10th, 2022 4:00 PM to 8:30 PM
Important Note Registration begins from 4:00 PM onwards. Dinner Prasad from 8:30 PM
Sri Sivakameswari Temple invites you, your family, and your friends to a grand Sri SitaRama Navaratna Sankeertana Kalyanotsawam on April 10th, 2022, from 4:00 pm to 8:30 pm.
The Kalyanotsavam will be performed according to Vaidik Agama principals. Please join us and be blessed in this Divine matrimony of universal Goddess Sri Sita and Lord Sri Rama to create abundance of Love, Unity, peace, and prosperity of the universe.
The feast will be served at the temple premises from 8:30 pm onwards.
---
Grand Sponsors (Limited to 4 Only) $501
Sponsors will get an opportunity to perform Kalyanam along with the priest Sri Rama Padukas (Silver) will be given as Prasadam along with Sri Rama Mada,Vastram and Kalyana Akshatas from Bhadrachalam to Grand Sponsors.
---
Kalyanam Sponsors $54
Sri Rama Maada, Vastram and Kalyanam Akshata Prasadam from Bhadrachalam will be given to All Kalyanam Sponsor.
---
Event Schedule
4:00 PM – 4:30 PM
Spot registrations open. You may also choose to register Online
4:30 PM – 7;00 PM
Sankalpam Starts Followed by Viswakshena Pooja followed by Punyavachanam, Sri SitaRama Kalyanotsawam begins – includes Various Marriage rituals, Raksha Bandhana, Reciting Pravara, Kanya Danam, Mangala Sutra Dharana, Panigrahanam, Wedding Garlands exchange. Event concludes with Maha Samrajya Pattabhishekam for Lord Sri Rama.
7:00 PM
Archana Sankalpam, Alankaram, Archana, Cultural program & Maha Mangala Aarati.
8:30 PM
Dinner Maha Prasad will be served
All the Participants are requested to be able to attend in person in traditional Indian attire. If unable to attend for any reason in person, please register Online so that way it will help us to be add you to the main Maha Sankalpa of the Kalyanam. In this way you can still participate Virtually from distance. All the Sponsors names, Gotrams will be recited in the Maha Sankalpam by Our priests.