Significance of Kalasha Pooja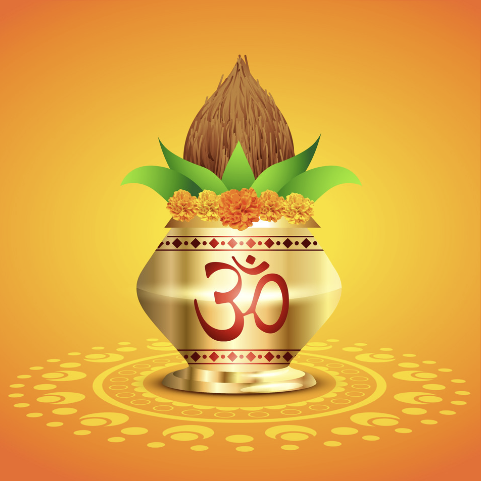 The tradition of Kalasha and Kumbha is ancient, and it is the root of Vedic Traditions and Rituals.
No Vedic pooja is performed without 'Kalasha Sthapana' or first establishing the Kalasha in the area of worship. Kalasha or Kumbha is detailed in the mantras quoted in Rigveda: 10:89:7; Shukla Yajurveda: 19:87; Atharva Veda: 19.53.3; 4.34.7
Kalasha comprises of a pot; it can be an earthen pot or made out of metals like Brass, Bronze, Copper, Silver or Gold. This pot is filled with sanctified water and other auspicious, sacred ingredients such as a pinch of turmeric powder or root, Kumkum, a few flowers, a copper coin, and is topped with a coronet of a bunch of mango leaves and is then topped with a coconut. A new triangular cloth is placed on the coconut.
Water in the Kalasha is energized by special Mantra chanting, inviting the Cosmic Energy.
This is then called 'Purna Kalasham' or 'Purna Kumbham'. This Kalasham is filled with Divine Energy.
Purna Kalash therefore symbolizes abundance of all positive aspects of life such as purity, prosperity, power, and the water from such sanctified Kalasha becomes equivalent to elixir of life.
After the formal Kalasha Pooja is done, the energized water from the Kalasha is used to sanctify the place, grounds; it is also used to sanctify the idols during the exclusive special grand events such as 'Vigraha Prana Prathishta', where life energy is instilled in the Vigraha or the Statue and the Vigraha becomes a Deity; and Yantra Prathishta.
Unless one has enormous amount of good karma from many births, one will not be able to participate in such a great event. Being part of such Kalasha Pooja during Vigraha Prathishta is a blessing for one and all. Participating in Temple Kumbabhishekam is a great blessing not only for the participant but also for their families and friends, and future generations. Kalasha Pooja participants will make three parikramas (circumambulation around the shrines in the Temple), with the energized Kalashas on the head. After the completion of the Parikramas, participants will have an opportunity to offer the ingredients of the Kalasha to the Lord, through the hands of the Pundits.
We humbly request everyone to participate in this event and get blessed and be the instrument and channel of this Spiritual Energy for families, friends, communities, and the whole world at large.
For more information on sponsorship please contact
Pundit C S Samavedula 512 633 7999 or contact us at cs@sivakameswari.org