Karteeka Somavara Abhishekams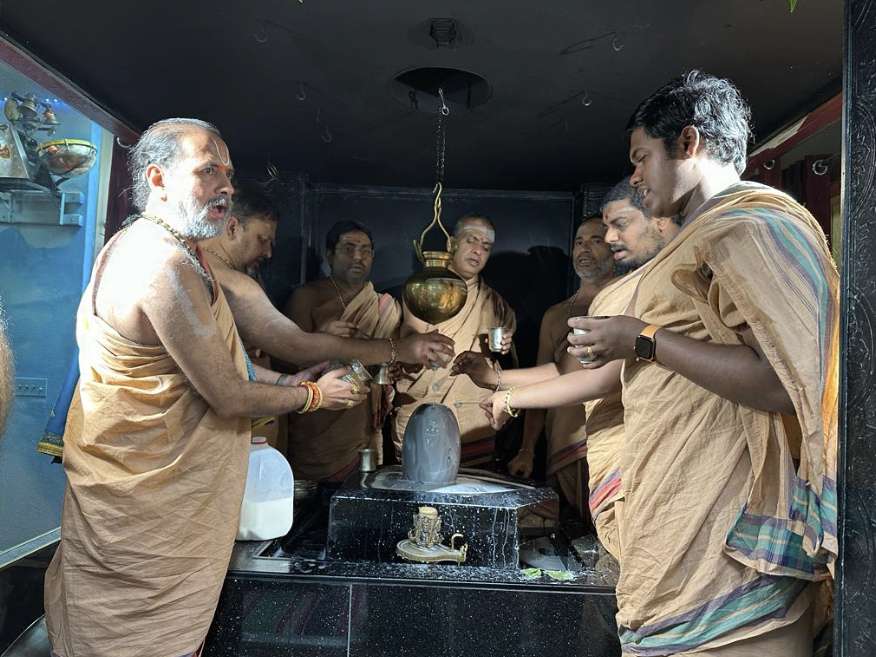 Mahanyasa Purvaka Ekadasha Rudra Abhishekam
| | |
| --- | --- |
| | Five Mondays i.e., on 13th Nov, 2023, 20th Nov, 2023, 27th Nov, 2023, 4th Dec, 2023, and 11th Dec, 2023 All Five Mondays (Sponsor Now – $451) Any Single Monday (Sponsor Now – $108) |
Observance of Karteeka Somavara Vrata on Monday is a significant day for Lord Shiva devotees who fast, visit temples, and perform special rituals. Common practices include lighting lamps, circling Shiva lingams, and reciting hymns. Devotees believe that observing this sacred day with devotion brings blessings, spiritual purification, and wish fulfillment.
Rudrabhishekam and Divine Rudram chanting are spiritual practices in Vedic Tredition, dedicated to Lord Shiva, also known as Rudra. They are interconnected, as the Rudram is often chanted during the Rudrabhishekam ceremony. Here's how they relate and work together.
Rudrabhishekam:
This ritual involves the anointment or 'Abhishekam' of the Shiva Lingam, a representation of Lord Shiva, with different substances, including milk, yoghurt, honey, ghee (clariFived butter), and water. Each substance used in the Abhishekam is believed to please Lord Shiva, appease the malefic effects of various planets, and bestow blessings on the devotee. The ceremony is performed to attain prosperity, peace, happiness, good health, and liberation from the cycle of birth and death. It's often conducted on auspicious occasions related to Lord Shiva, such as Maha Shivaratri, or during the holy month of Shravan.
Divine Rudram Chanting:
During the Rudrabhishekam, the Rudram, a sacred hymn from the Yajurveda, is chanted. The Rudram is divided into two parts – the Namakam and the Chamakam. The Namakam praises Lord Shiva in his many forms, and the Chamakam asks for blessings from the Lord. The chanting of the Rudram is believed to have potent vibrations that can purify the atmosphere, dispel negativity, and bring about peace and prosperity. When Rudrabhishekam is performed with the divine chanting of the Rudram, it's believed to amplify the positive energies and blessings received. It's important to note that the performance of these rituals and chants requires a deep understanding of their meanings and correct pronunciation. Therefore, they're often led by a knowledgeable priest or spiritual guide. The Rudrabhishekam ritual and the divine Rudram chanting, when done with full devotion and sincerity, are believed to create a strong spiritual connection with Lord Shiva, leading to spiritual growth, fulfillment of desires, and the attainment of Moksha or liberation.
---
Mahanyasa Purvaka Ekadasha Rudra Abhishekam
| | |
| --- | --- |
| | Five Mondays i.e., on 13th Nov, 2023, on 20th Nov, 2023, 27th Nov, 2023, 4th Dec, 2023, and 11th Dec, 2023 All Five Mondays (Sponsor Now – $451) Any Single Monday (Sponsor Now – $108) |