MAHA SHIVARATRI CELEBRATIONS -1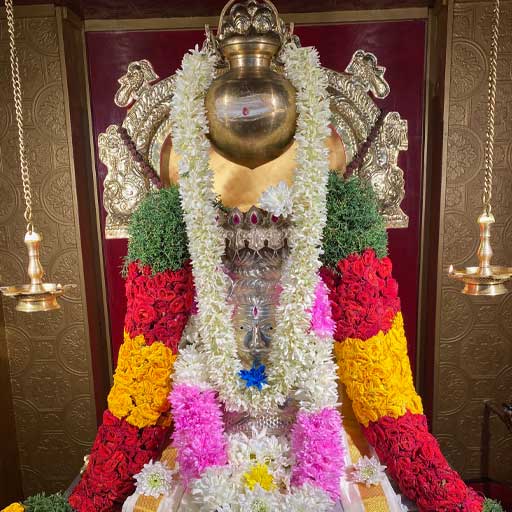 PROGRAM DETAILS
"Om Namaha Sivaya" akhanda japam
(Panchakshari Mantra Recitation) (Registration must) 1:00 Hour slot
On Fri, Feb 28th, 2022 6AM

to Sat Mar 1st , 6AM (Till next day)

(Very Nice and powerful Sadhana to do on this day for personal Spiritual Grouth.)



Morning Program




8:00 AM-10:00 AM

:- Sankalp, Ganesh Pooja Mahanyasa Poorvaka Maha Lingarchana
10:30 AM- 1:00 PM

:- Participatory "Ekadasha Rudrabhisheakam"



Evening :- 6:00 PM – 6:00 AM (Next Day)


Shat Yama Puja and Abhishekams, alankarams,cultural programs,Bhajan and meditation and Concludes with SivaParvati Kalyanam at Brahma muhurtha
We will be worshipping Lord Shiva in the format given below of Five Elements Along with Shakti. (Prakruti & Purusha)
Description
Represented element in Nature

6:00 PM to 6:20 PM

: "Natya samarpanam by students of Sri Pranava Mudhra Dance Academy"


6:20 PM to 6:30 PM

: Nrutya Archana By Students of Bharathi Baddireddy (Bharathi Indian dance academy)


6:30 PM to 6:50 PM

: Nritya Neerajanam by students of Smt. Pavitra Krishnan.


6:30 PM to 7:30 PM

:1st, Abhishekam to Lord SADHYOJATA Siva -1st form of Shiva Pancha Amrutha Abhishekam


7:30 to 8:00 PM

: Nrutya Neeranjanam – A dance offering by Sweta Aswin and team followed by

First Face – Earth

8:00 PM to 8:45 PM

: 2nd, Abhishekam to Lord VAMADEVA Siva – 2nd form of Shiva Phalarasa (Fruit juses) Abhishekam.


8:45-9:30 PM

– Offering of Nrutya neerajanam. A dance offering by students of The Shakti School of Bharata Natyam -Director Viji Prakash. followed by Alankaram, Meditation, Bhajan & Keertan.
Second Face – Water

9:45 PM to 11:45 PM

: 3rd, Abhishekam to Lord AGHORA Siva – 3rd form of Shiva Bhasmaabhishekam (Vibhooti). 12:00 AM: Lingodhva Siva Darshan & Meditation, Fallowed by Bhajan & Keertan & Break (Om Namasivaya Continuies) After The Breake

1:00 AM to 3:00 AM

: 4th , Abhishekam to Lord TATPURUSHA Siva – 4th form of Shiva. Anna (Yogurt Rice) Abhishekam. followed by Alankaram, Meditation, Bhajan & Keertan.
Fourth Face – Wind

3:00 AM to 5:00 AM

: 5th, Abhishekam to Lord ESHANA Siva – 5th form of Shiv. Haridra, Kumkuma and Chandana (Turmarick , kumkum and Chandana ) Abhishekam. followed by Alankaram
Fifth Face – Sky or Ether

5:00 AM to 6:00 AM

Kameswara – Roopa Darshanam Fallowed by Siva Parvati Kalyanam
Prakruti & Purusha – Siva& Shakti
Maha Shivarathri celebrations conclude with Maha Mangal Aarti & Prasad distribution.
OM NAMAH SHIVAYA! OM NAMAH SHIVAYA!! OM NAMAH SHIVAYA!!!
Note: All Night Bhajan & Keertan will be performed by

Pundit Siddharth Pathak and team

. And Cultural programs from 6:00 PM onwards.
special offerings for the occasion of Shivaratri. By Our Local Classical Dance Teacher's Students .
Request Full day & Night Sponsorship (24hrs programme) $251
Request All morning Programme $151
Request Evening programme ( all Abhishekams& Kalyanam) $151
Request Any Single abhishekam or Kalyanam $54